We are excited to announce a call for submissions for The 96th Academy Awards (OSCARS)!
Kindly Please submit your application through the QR attached.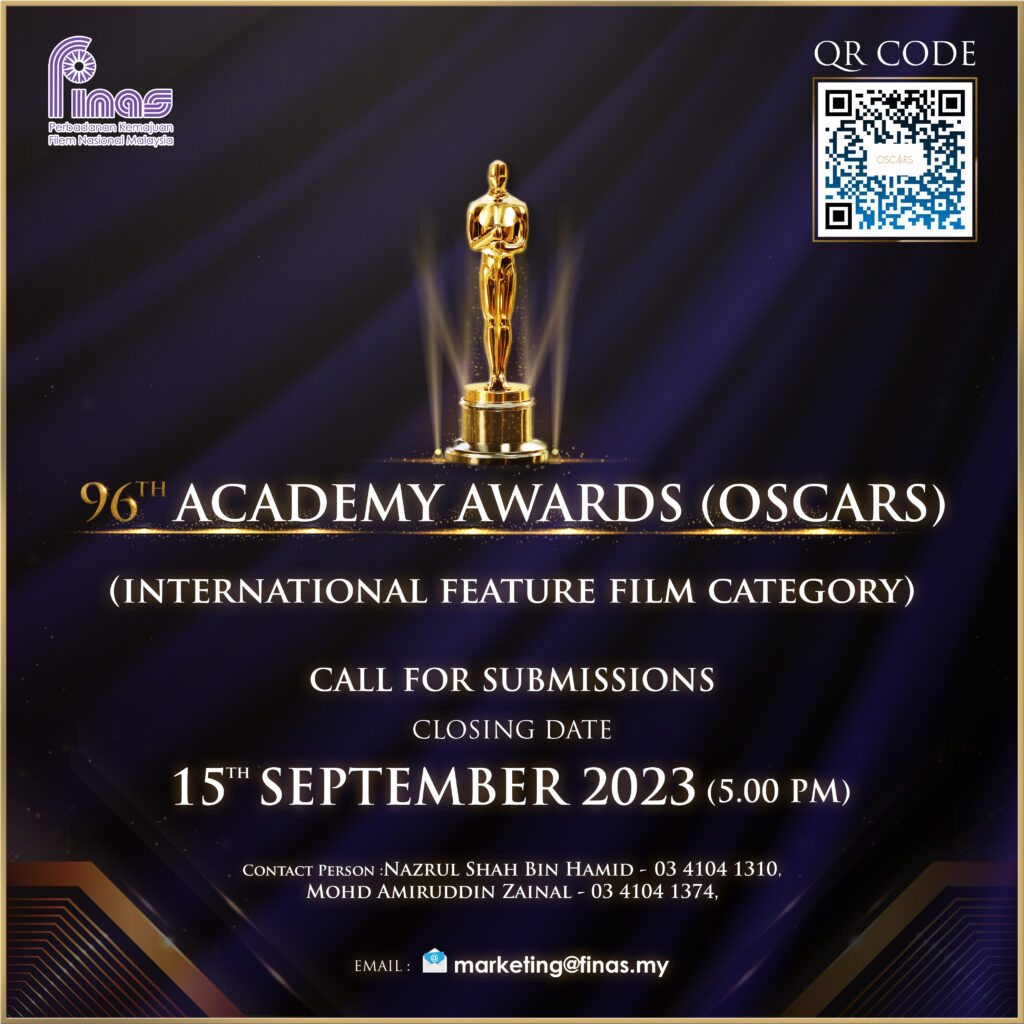 For Best International Feature Film Award at the 96 th Academy Awards
Following the opening call for submission to the Annual Academy Awards, Best International
Feature Film Award, National Film Development Corporation Malaysia (FINAS) is inviting
Malaysian Filmmakers to submit their feature films for consideration to the 96 th Academy of
Motion Pictures Arts and Science Awards in the Best International Feature Film Category.
INTERNATIONAL FILM
An international film is defined as a feature-length motion picture (over 40 minutes) Produced outside the United States of America and its territories with a predominantly (more than 50%) non-English dialogue track. Animated and documentary feature films are permitted The FINAS Selection Committee will select Malaysian Film to be submitted consideration for the Best International Feature Film Category Award.If successful at the Academy stage, the film will be considered as nominated. Nominees will then be eligible to compete for the Oscar. The FINAS Selection committee will make the final determination on all question of eligibility of the submission. The Academy (Los Angeles, US) on the other hand has final determination on matters of nomination.
ELIGIBILITY
THEATRICAL RELEASE REQUIREMENTS
The country-selected film must be first released in the country of origin no earlier than
December 1, 2022, and no later than October 31, 2023, and be first publicly exhibited for at
least seven consecutive days in a commercial motion picture theater for the profit of the
producer and exhibitor.
In order for films to more easily meet theatrical exhibition requirements, the Academy will
allow films to qualify outside the country of origin, provided the film is theatrically exhibited
outside of the United States and its territories for at least seven consecutive days in a
commercial motion picture theater for paid admission.
The film must be advertised and exploited during its qualifying theatrical release in a manner
considered normal and customary to theatrical feature distribution practices. The film need
not have been released in the United States.
Films that, in any version, receive a nontheatrical public exhibition or distribution
before their qualifying theatrical release will not be eligible for Academy Awards
consideration.
Nontheatrical public exhibition or distribution includes but is not limited to:
• Broadcast and cable television
• PPV/VOD
• DVD distribution
• In flight airline distribution
• Internet transmission
TECHNICAL REQUIREMENTS
VIDEO
Film should be submitted in 35mm or 70mm film, or in a 24- or 48-frame progressive scan
Digital Cinema format with a minimum projector resolution of 2048 by 1080 pixels, source
image format conforming to ST 428-1:2006 D-Cinema Distribution Master – Image
Characteristics; image compression (if used) conforming to ISO/IEC 15444-1 (JPEG 2000);
and image and sound files packaged as Digital Cinema Packages (DCPs) in the "SMPTE
DCP" format. SMPTE DCP refers to SMPTE ST 429- 2:2020 D-Cinema Packaging – DCP
Operational Constraints and related specifications. (Blu-ray format does not meet Digital
Cinema requirements.)
AUDIO
The audio in a Digital Cinema Package (DCP) is typically 5.1 or 7.1 channels of discrete
audio. The minimum for a non-mono configuration of the audio shall be three channels as
Left, Center, Right (a Left/Right configuration is not acceptable in a theatrical environment). In
addition to channel-based audio, object-based audio may also be present as an immersive
audio bitstream.The discrete audio data shall be formatted in conformance with SMPTE ST
429-3:2007 D-Cinema Packaging – Sound and Picture Track File, SMPTE ST 428-2:2006 D-
Cinema Distribution Master – Audio Characteristics and SMPTE ST 428-12:2013 D-Cinema
Distribution Master Common Audio Channels and Soundfield Groups. Immersive audio, if
present, shall be formatted in conformance with SMPTE ST 2098-2:2019 Immersive Audio
Bitstream Specification and SMPTE 429-18:2019 D- Cinema Packaging – Immersive Audio
Track File and packaged in conformance with SMPTE 429- 19:2019 D-Cinema Packaging –
DCP Operational Constraints for Immersive Audio.
DIALOGUE
The recording of the original dialogue track as well as the completed picture must be
predominantly (more than 50%) in a language or languages other than English. Accurate,
legible English- language subtitles are required.
OTHERS REQUIREMENT
The submitting country must confirm that creative control of the film was largely in the hands
of citizens or residents of the submitting country.
CALL OFF SUBMISSION
The following submission materials must be submitted to the Academy by 5 p.m. PT on
Monday, October 2, 2023: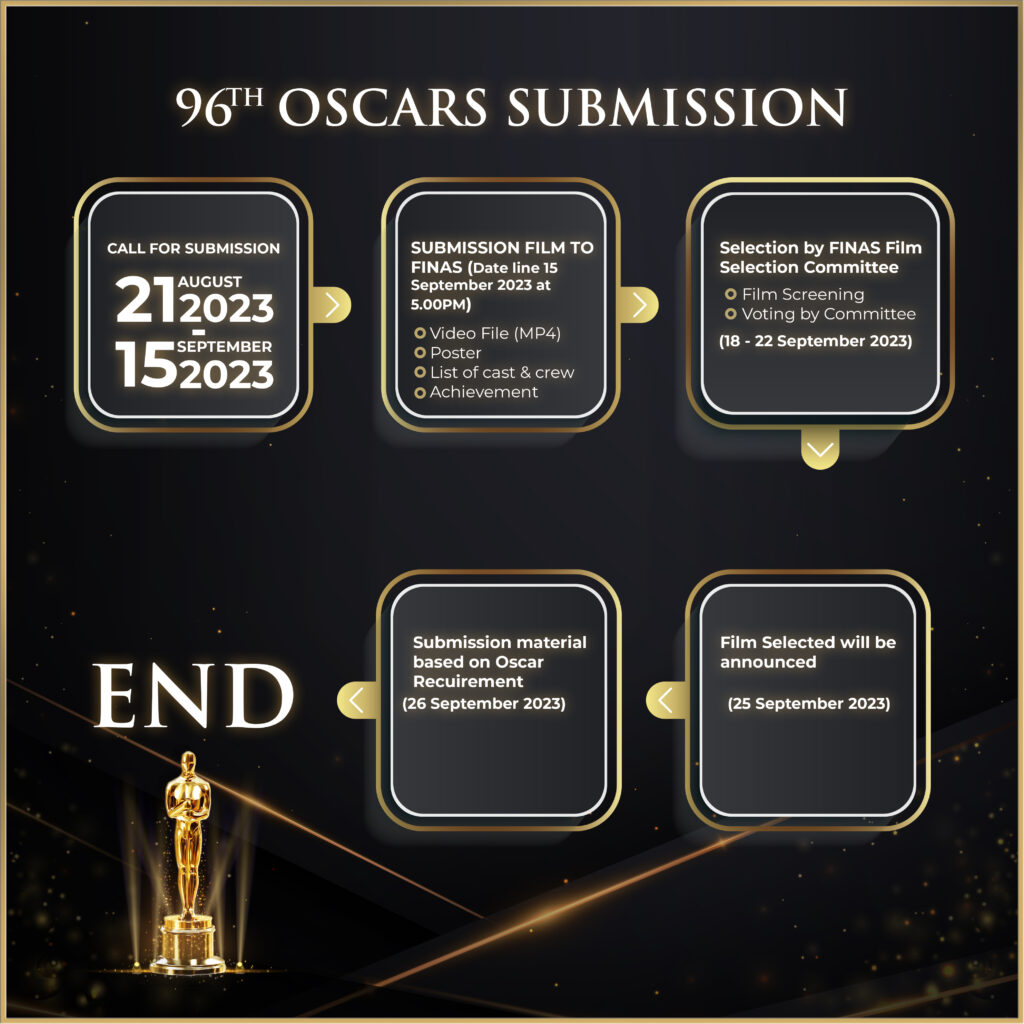 THE OSCARS SELECTION COMMITTEE
Also known as the Academy Awards Selection Committee responsible for choosing the official submissions from their respective countries for the Best International Feature Film Category at the Academy Awards, commonly known as the Oscars
A film selection committee is a group of individuals responsible for choosing which films will be included in a film festival, screening series, or other cinematic events.
National Film Development Corporation Malaysia (FINAS) has appointed a twelve-person committees typically consists of film experts, programmers, critics, and industry professionals who review submitted films and select those that best align with festival's theme, criteria or objectives. Their goal is to curate a diverse and compelling line-up that showcases a range of cinematic talents and stories about Malaysia to the festival's audience.
The selection process involves watching and evaluating numerous films, often leading to the inclusion of the most exceptional and relevant works in the final program.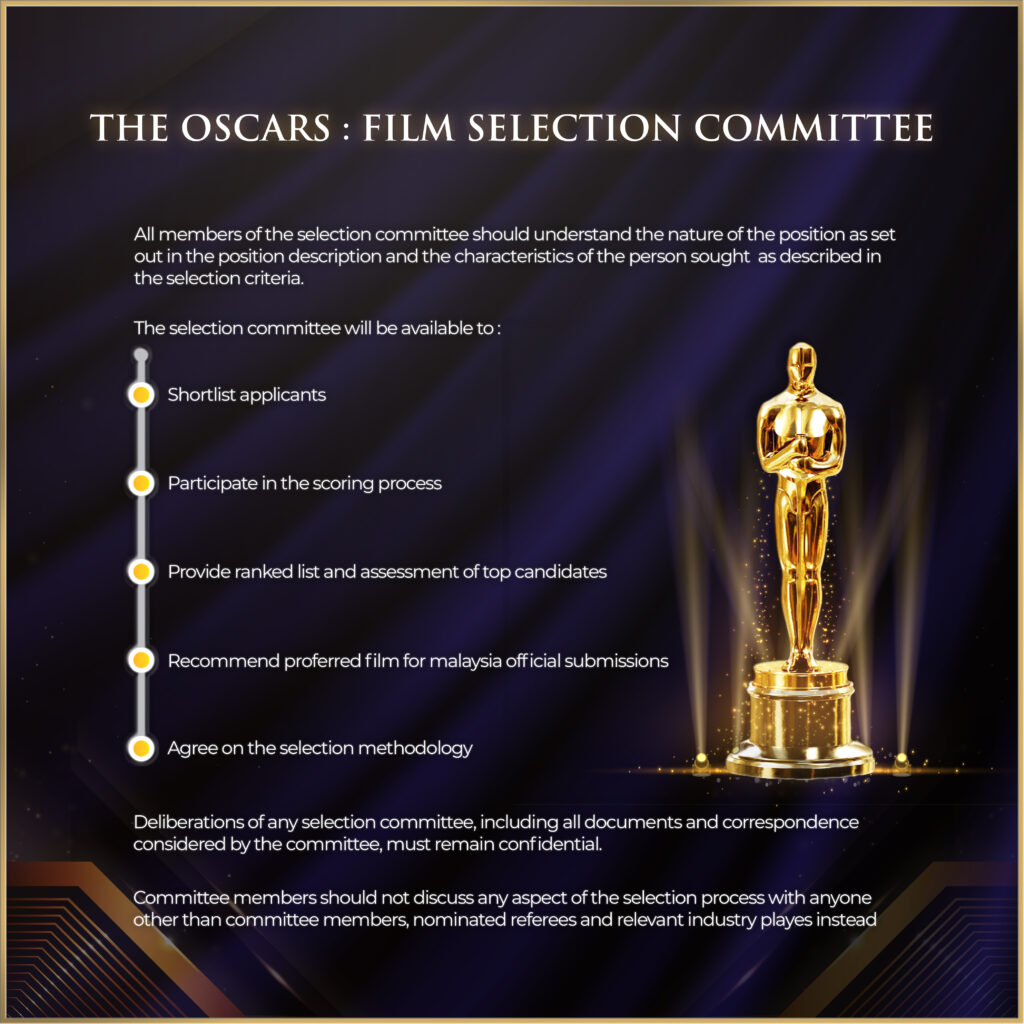 Please refer the link below for further information regarding THE 96 TH OSCARS :Rules
And Eligibility
https://www.oscars.org/oscars/rules-eligibility
Responsibilities of committee members
All members of the selection committee should understand the nature of the position as set out in the position description and the characteristics of the person sought as described in the selection criteria.
The selection committee will be available to:
shortlist applicants
participate in the scoring process
provide ranked list and assessment of top candidates
recommend preferred film for Malaysia official submissions
agree on the selection methodology
Deliberations of any selection committee, including all documents and correspondence considered by the committee, must remain confidential.
Committee members should not discuss any aspect of the selection process with anyone other than committee members, nominated referees and relevant industry players instead