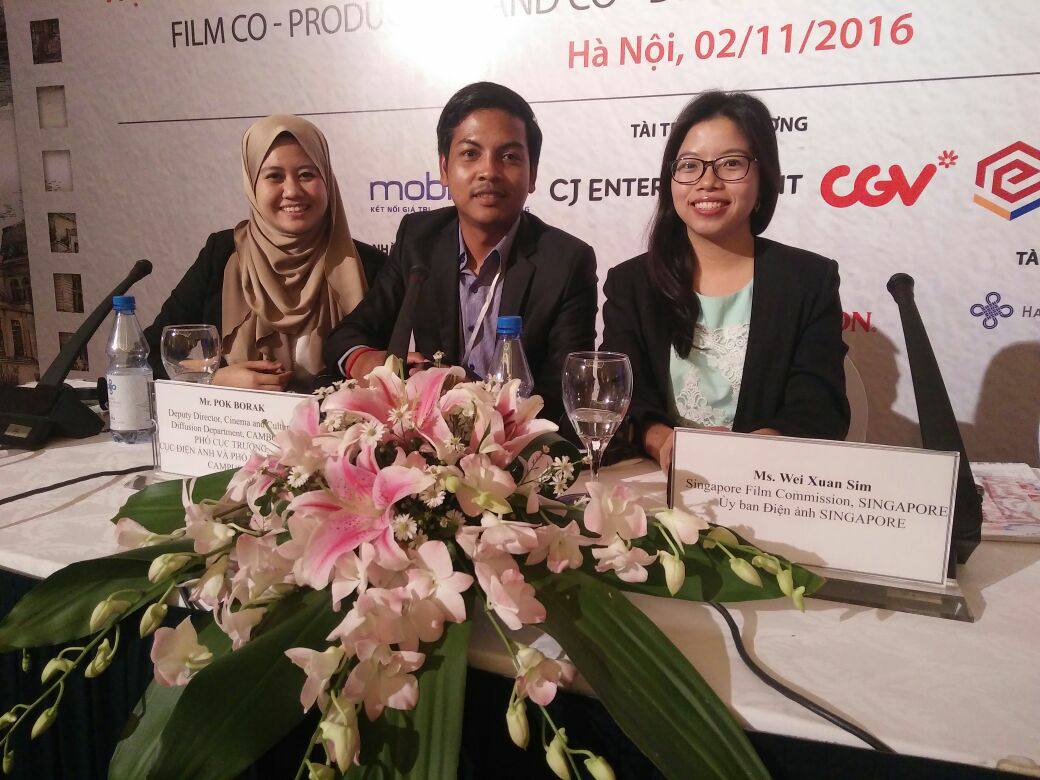 Hanoi, Nov 6- Realizing the potential of Malaysian creative content to contribute USD 60 million export sales in 2016, National Film Development Corporation Malaysia (FINAS) has been working closely with international and regional film bodies to tap new markets and build strategic co-production with foreign parties. The Director General, Dato' Kamil Othman strongly believes in driving proactive roles and presence of new FINAS internationally and escalating joint production projects in film, documentary, animation and strategically to attract potential foreign investment into Malaysia.
The vision of FINAS has been tabled by Ms. Norashikin Mohd Noor, Head of International Marketing FINAS at the opening of Film ASEAN General Meeting in conjunction of 4th Hanoi International Film Festival, Vietnam last Wednesday. Hosted by FILM ASEAN, the regional film body constituted of all Asean countries which has been established in building potential for a regional cinema industry and cooperation between countries in the ASEAN by enhancing co-operation and attracting foreign producers.
During the roundtable discussion, Norashikin has highlighted the high significance for Malaysia to build regional conversation on the need for increased cooperation between local and foreign producers, amid moves by FINAS to join with ASEAN countries, solidify its international network and promote potential domestic and foreign investment through film incentives, "This partnership aims not only to promote the film sector, but also to use the medium to promote cross-cultural understanding and awareness of local conditions among ASEAN members; in other words, to facilitate the development of the ASEAN Economic through film which has become our focus by looking at creative content industry as economic driven engine to the nation's growth" said Norashikin.
Chaired by Mr.Briccio Santos, Film Asean President and representatives from Vietnam, Singapore, Malaysia, Indonesia, Cambodia, Laos, Brunei and Myanmar, several important areas have been discussed including joint marketing mission under FILM ASEAN at film markets, economic development and regional co production and distribution. The list of invited members are as follows;
1. Mr. Briccio Santos, Film Asean President
2. Dr. Ngo Phuong Lan, Director General Vietnam Cinema Department, Meeting Host
3. HE Vongthep Arthakaivalvatee, Deputy Secretary General
4. Mr. Mike de la Rosa, FILM ASEAN Executive Director, Philippines
5. Mr. Do Duy Anh, Deputy Director, Vietnam Cinema Department
6. Ms. Vu Hong Anh/Le Thi Thu Ha, International Relations Specialist, Vietnam Cinema Department
7. Deputy Director Pok Borak, Cinema and Cultural Diffusion Department, Cambodia
8. Director General Vithuone Sundara, Lao Cinema Department, Laos PDR
9. Ms. Norashikin Ahmad Nor, FINAS, Malaysia
10. Director Thein Htun Aung, Forever Group, Myanmar
11. Ms. Wei Xuan Sim, Executive, Singapore Film Commission
12. Mr. Dinesh Pasrasurum, Assistant Director, Singapore Film Commission
13. Ms. Pamela Reblora, Development Communication Officer and OIC Communication and Public Affairs Unit, ASEAN Centre for Biodiversity
14. Jose Yulo, Jr., President, Chamber of Commerce of the Philippine Islands
15. Ms. Mencia Manso de Zuniga, First Secretary, Embassy of Spain in Vietnam